Book now
MH Design Hotel, Naples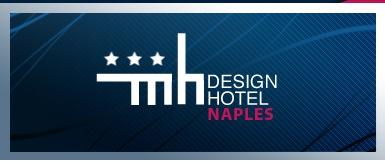 Home > Hotel
Ideal for tourists and businessmen, who want to relax after a day in Naples, MH Hotel is a 3 star hotel with all the facilities of a superior category. MH Hotel is the first design hotel in Naples, created in the belief that the environments in which we live, the objects that surround us and the setting that contains us have a decisive influence on the quality of our lives.

Everything within walking distance:the nearby Piazza del Plebiscito is a starting point for those who want to discover this wonderful city's architectural attractions and the charm of the local art, culture and history; for those who prefer shopping, we are located on one of the most prestigious streets in an area of great tailors and fashion designers, in the most sophisticated part of Naples; for those who also want to enjoy Naples' nightlife, MH hotel is just a short distance away from the city's best restaurants and night spots.

We are therefore in a popular location not just with tourists and businessmen, but also those who want to rediscover one of the beautiful cities in the world, in all its different aspects...
Give us your Feedback
MH Design Hotel, Via Chiaia 245 - Naples